I present the following series of lectures thoughout the UK to wildlife and photographic societies. All the talks are carefully tailored to the audience and illustrated with a wealth of images, the objective being to entertain and inform. To book , it is best to contact me at keith@keithofford.co.uk. As I am regularly travelling this is far better than phoning.

My fees are as follows:
0-100 miles from home:  £100 plus travel @45p per mile
For talks greater than 100 miles my fee is scaled to the travel distance e.g:
150 miles from home: £150 plus travel @45p per mile
200 miles from home £200 plus travel @ 45p per mile
All distances are calculated with AA routefinder.

"RAPTORPHILIA"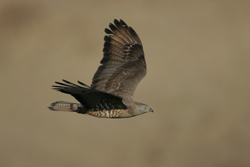 Birds of prey (raptors) are one of the most fascinating groups, appealing to a wide range of people. They are incredibly varied, ranging from the diminutive Pygmy Falcon to giants such as the Martial Eagle. They are also dramatic, unpredictable and exciting and have evolved an astonishing range of specialised features designed to help them survive. Their importance as "barometers" of the health of the countryside cannot be overstated and following two centuries of ruthless persecution and poisoning there has now, for many species, been a significant recovery, allowing everyone to enjoy the thrill of seeing them in the British countryside. I have spent many years monitoring breeding birds of prey on the Welsh uplands for Natural Resources Wales. I have also travelled widely throughout the world and photographed many other examples which feature in the talk.
"LAND OF CONTRASTS"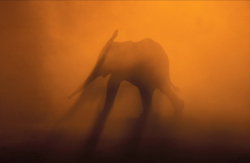 Namibia is one of the largest and most unpopulated countries in Africa and has within it an extraordinary range of habitats including thornveld, mountains, desert (the oldest in the world) and coastline. This diversity is home to a wealth of fascinating wildlife ranging from a host of endemic birds species to one of the most secure populations in the world of the endangered Black Rhino.This presentation explores the fabulous wildlife of these various habitats and blends some of the most exciting aspects of natural history with stunning backdrops of Namibian scenery.
"LIFE OVER 1000 FEET"
The uplands of Britain represent a major stronghold for wildlife, often because of their inaccessibility and lack of intensive cultivation. However, to consider "upland" as one habitat would understate hugely the fantastic diversity to be found at this altitude. From Pied Flycatchers in ancient oak woodlands to Merlins on the high moors this talk explores the various habitats and the wildlife to be found within. I spend a significant proportion of each year monitoring breeding raptors for Natural Resources Wales. This task takes me to some of the most remote parts of the Welsh moors and with the help of a selection of high quality images this talk examines a wide range of upland wildlife and debates some of the key conservation issues.
"WHAT'S THAT RAPTOR?"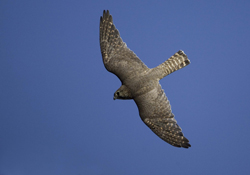 Raptors are some of the most exciting but elusive of our bird groups and because of their unpredictable behaviour, keen eyesight and fear of humans, the views we get are often no more than fleeting glimpses or distant specks. They therefore pose some of the greatest challenges for identification and everyone, no matter how experienced, will puzzle over a raptor sighting from time to time.This talk takes a close look at the identification of raptors in the real setting where subtle differences in wing length, speed and depth of wingbeat, stance, jizz and habitat provide the melting pot of clues which help us to pinpoint the species accurately. All the major groups are examined with the assistance of a wealth of images taken in the field.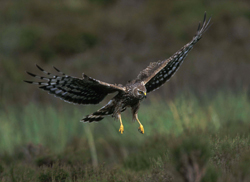 "SKYDANCERS"
Sixteen species of harrier are found throughout the world, and are spread as far apart as Australia and South America. They are, arguably one on the most elegant groups of raptors and, typically, they sail low over open country on wings held in a shallow V shape as they search out their prey. They are also known for their spectacular display flights early in the breeding season. This talk explores this fascinating group of birds with particular emphasis on our own Hen Harrier which I have studied and  monitored on the uplands of Wales since 1974.
"CHASING THE DAY"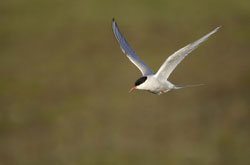 Some of the most remarkable journeys and the most intriguing behaviour occurs within the world of birds and much of it is driven by light. Whether it is the trigger stimulating the first utterance of a springtime dawn chorus or the much more insidious shift in behaviour as the days lengthen in early spring, light has a vital role in the world of birds and has resulted in some quite extraordinary outcomes. This talk investigates the many facets  of light as a driving force in bird behaviour and follows migrants across the world in their quest for the longer day.
 "ROADRUNNER COUNTRY"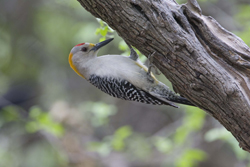 For a first wildlife-watching trip to the USA it would be difficult to beat the southern states in spring and no better a starting point than Texas. This massive state straddles both the east and west with a finger of land pointing down into Mexico. Moist woodlands in the east gradually give way to more arid stony desert in the west, bordered by the magnificent Rio Grande. In addition to a fabulous array of resident bird species including such specialities as Greater Roadrunner and Green Jay, springtime sees the massed arrival of travellers from the south including multitudes of warblers, hummingbirds, flycatchers and raptors to name a few. There are alligators, coyotes and rattlesnakes as well. This talk takes a close look at some of the most exciting wildlife of the southern states, following the Gulf coast right down to Mexico, up to the Big Bend National Park then into the beautiful Edwards Plateau.
 "THE WILD WOOD"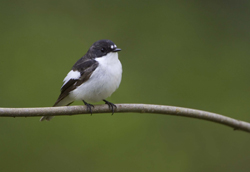 Tucked away in the hilly country bordering Shropshire and Wales there is a beautiful old 13-acre woodland, once inhabited for over 50 years by an old hermit. Massive stands of beech, oaks ash and cherry, dating back hundreds of years provide the perfect natural habitat for a wide variety of species.This talk explores the changing faces of this wood through the seasons, examining the rich spectrum of wildlife from Pied Flycatchers to Elf Cup fungi. The story also follows the management of the wood which includes the creation of glades and dead wood areas plus an extensive nest box scheme, further enhancing its attraction to wildlife. Against a backdrop of disappearing habitats, this is a truly uplifting subject, reminding us that good things really are happening in the UK.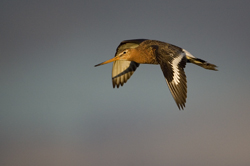 "LAND OF GEYSERS AND GYRS"
Vast expanses of wild country comprising rugged mountains, volcanoes and lakes make Iceland one of the most scenically interesting countries to visit. During summer it is the breeding ground for a sumptuous array of bird species such as Red-throated and Great Northern Divers in vibrant summer plumage, Red-necked Phalarope, Harlequin Duck, Barrow's Goldeneye, Whooper Swan, Snow Bunting, Gyr Falcon, a host of waders and seabirds, not forgetting a plethora of flowering plants. All this is set against one of the most geologically impressive backdrops imaginable and this photographic exploration cannot fail to whet the appetite.
"PARADISE OF THE NEOTROPICS"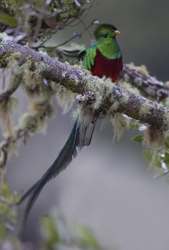 An extraordinary array of birds and other  wildlife is found in Costa Rica. Forests drip with tanagers and warblers and echo to the exotic utterances of Montezuma Oropendolas while whole new families of birds can be discovered such as foliage-gleaners, antbirds and woodcreepers. Perhaps the most memorable are the iridescent hummingbirds which whiz around like large insects, pausing only to feed from nectar-producing flowers. High in the trees, fabulously coloured trogons might be spotted along with the aptly named Resplendent Quetzal. This talk explores the wildlife of a number of the key habitats from cloud forests to coastal plains.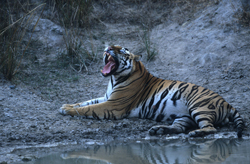 "AN INDIAN WINTER"
Anyone who has travelled to the Indian Subcontinent cannot have returned unmoved. There are few countries in the world which offer such an exotic sensation. This presentation explores the fabulous wildlife of the area, starting with the extraordinary waterbird oasis of Bharatpur, home to endangered Siberian Cranes, psychedelic kingfishers and every imaginable heron and egret, then on to the emblem of Indian conservation, the elusive tigers of Bandhavgargh. Along the way stunning wildlife is punctuated with some of the greatest cultural riches in the world.
"KOOKABURRAS, CURRAWONGS AND CROCODILES"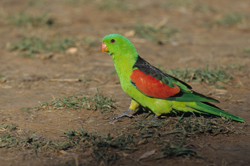 There can be few parts of the world which feel so far removed from us as Australia, not only in terms of distance but also in terms of the flora and fauna. This presentation takes the audience on a memorable journey through some of the most exciting and remote parts, from the temperate hills of New South Wales to the steamy rainforests of Queensland and then on to the North, visiting the immense Kakadu National Park, and finally ending up in the spectacular gorges of the Kimberley. The wildlife is similarly varied with outrageously plumed parrots, impossibly cryptic frogmouths and, lurking in the still waters of the north, are some of the biggest crocodiles in the world. Many parts of Australia have retained a new, undiscovered feel and host an extraordinary range of wildlife from the breathtaking to the bizarre. This talk, illustrated with a wealth of photographs, blends spectacular scenery with fascinating insights into the lives of some of these amazing creatures.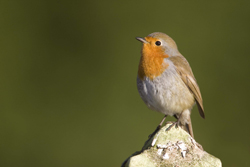 "A GARDEN FOR BIRDS"

For most people, the first interest in birds arises from looking out of the front room window and puzzling over what bird they are looking at. In many cases this curiosity leads on to a lifetime interest in this fascinating aspect of our natural history. The garden is, increasingly, a vital refuge for wildlife of all types and there are a wide range of actions we can all take to enhance our enjoyment of nature on our doorsteps. This talk looks at a number of these with practical recommendations for improving the garden (no matter how big or small) for wildlife.
"GATEWAY TO SAHARA"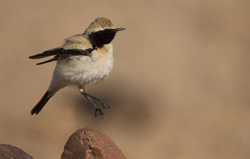 Morocco is so close to Europe and yet so far, both in terms of culture and wildlife. It is a country rich in diversity, from the high alpine crags of the Atlas mountains to the edges of the Sahara desert. Internationally important wetlands can be found along the coastline and it is hardly surprising that Morocco boasts a fascinating range of birds and other wildlife. Eight species of wheatear, eleven species of lark, Cream-coloured Coursers, Bald Ibis and Black-crowned Tchagra are just a few of the species we will be enjoying on this journey from the highest to the lowest altitudes in Southern Morocco.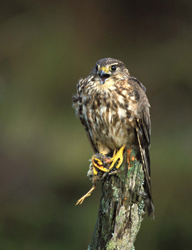 "MAGICAL MERLINS"
Merlins are our smallest falcons and these exhilarating little raptors always produce a  thrill for birdwatchers as they cut low over open country on flickering wings. This talk explores the life of the Merlin, showing it in its wintering and breeding grounds. An intimate insight is provided as a result of many years of involvement with Merlins in the uplands of Wales.
"THE SMILING COAST"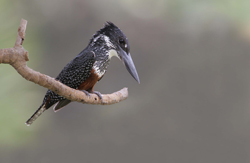 It is hardly surprising that Gambia is a popular winter destination for birdwatchers and general holidaymakers alike. Situated strategically on Africa's west coast, at this time of year this tiny country sees a sumptuous array of resident species joined by vast numbers of migrants from the north, (perhaps paralleling our own movements!).This talk explores some of the finest habitats in this exotic country including freshwater lagoons, estuaries, mangroves, savannah and ancient gallery forest. Not forgetting of course the lush hotel gardens – tremendous wildlife magnets with dazzling sunbirds, striking gonoleks and prehistoric (but harmless) water monitors all around.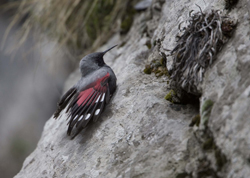 "WHERE GRIFFONS SOAR"
From the orchids and snow covered spires of the Pyrenees to the rolling plains and cork oak woodlands of Extremadura, Spain is, arguably, one of the finest wildlife destinations in Europe and internationally important for certain raptor species such as Imperial Eagle, Lammergeier and Black Vulture. It is also a major migration route to Africa, where, every year, thousands of birds make the crossing at the Straits of Gibraltar.  This talk recalls some of the finest wildlife experiences in this picturesque country.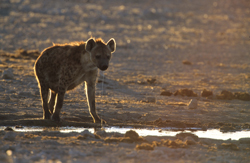 "WATER FOR LIFE"
Over half of Britain's bird species are, to varying degrees, associated with water. From the wildfowl and waders of our coasts, lakes and rivers to Dippers on fast flowing streams, a variety of fascinating adaptations have taken place for an aquatic existence. The significance of water in the lives of birds and other wildlife goes beyond this however as it is, for most, an essential element in survival and as well as focussing on the exploitation of water as a habitat, this talk investigates the challenges faced by those species living in arid countries where water is scarce.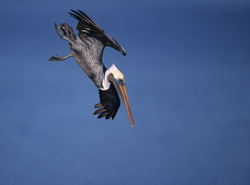 "ARISTOCRATS OF THE AIR"
Their ability to fly has enabled birds, unlike many other animals, to colonise all corners of the globe. Flight has resulted from millions of years of evolution which has produced some truly fascinating adaptations. This presentation looks at how birds become airborne, how they travel with minimum expenditure of energy and, from vast soaring eagles to miniscule hummingbirds is illustrated with some of the most spectacular examples from around the world.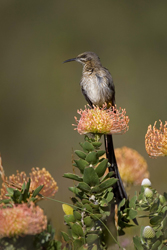 "AT THE TIP OF AFRICA"
An extravaganza of flowers, singing birds and displaying whales makes early summer in the Western Cape an exhilarating destination. Stunning proteas and orchids are alive with sunbirds and sugarbirds in the shadow of Table Mountain while, further along the coast Southern Right Whales congregate, sending massive blows into the sky and breaching to the delight of gathered onlookers on the shore. Elegant Black Harriers float low over coastal scrub while Blue Cranes dance in farm fields. On top of this, the forests, mountains, fynbos and wetlands offer other  ornithological  riches including endemics such as Cape Rockjumper, Knysna Warbler and Cape Siskin. With a wealth of images this talk captures the special wildlife and vibrant colours of this region.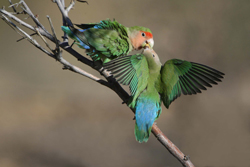 "TOP SHOTS"
The art of wildlife photography has become increasingly popular in the last decade and the advent of digital technology has opened up new possibilities. This talk examines what makes a good photograph and recounts some of the adventures involved in getting the best shots. This talk is aimed at the photographer, birdwatcher or general wildlife enthusiast alike and is designed to reveal some of the tricks of the trade, illustrated by a wide range of images.